Buckeyes Pass First Road Test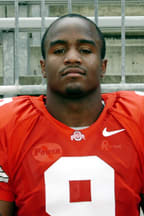 If ever there was a game that lived up to the Jim Tressel mantra of defense and special teams winning a game, this was it.
On a day when the offense accounted for just 138 yards and never got any kind of rhythm, the Buckeyes took advantage of a generous and undisciplined North Carolina State squad, winning 22-14 at Carter-Finley Stadium.
The Buckeyes came into the game having not forced a turnover all season, but grabbed five against the Wolfpack. Included in that haul were three interceptions, one of which was returned 15 yards to the North Carolina State 3-yard line by Donte Whitner with less than two minutes left in the first half.
NC State quarterback Jay Davis was pressured by Simon Fraser and threw a wounded duck, which Whitner grabbed in stride and weaved through defenders down the left sideline.
It took the Buckeyes just one play to score as Lydell Ross plunged over from the three to put the Buckeyes up 13-0.
"When you can pick one down in their area, that's big," Tressel said. "Getting seven was also big. If you have to settle for three there it might be a different story."
Mike Nugent tied a school record by kicking five field goals and consistently put his kickoffs into the back of the end zone.
Nugent continues to be Ohio State's most important player, and he was in the zone all afternoon.
"He made his five, thank goodness," Tressel said. "He's the best kicker in college football."
The Buckeyes got one turnover via special teams when Tramain Hall botched a return. OSU got the ball at the NC State 47 and ended up with a 30-yard field goal by Nugent.
"If you want to win on the road against a good team, you have to get those," Tressel said. "There's usually a punt return that spells the difference, so we got a big play there."
North Carolina State committed 14 penalties for 121 yards, including a pair of personal fouls that allowed OSU to continue drives.
The Buckeyes moved to 3-0 for the season while North Carolina State dropped to 1-1.
Tressel felt good about the win and believes his team overcame the adversity of being on the road against a team with more experience.
"With a young group winning against a veteran group, we feel proud of the way they fought like crazy," Tressel said. "We had outstanding special teams, relentless defense and mistake-free offense. If you play a good team like North Carolina State you'd better do those things, and we did."
"We got through our preseason and now we go to our Big Ten season," Tressel said.
This was classic Tresselball, and the coach offered up no apologies for the lack of aesthetics from the Ohio State offense.
"If we didn't win it would concern me," Tressel said of the 138 yards. "We'll be concerned with individual plays, but as a whole we're not concerned. That's not the way we coach."