Buckeye brotherhood impresses Kelly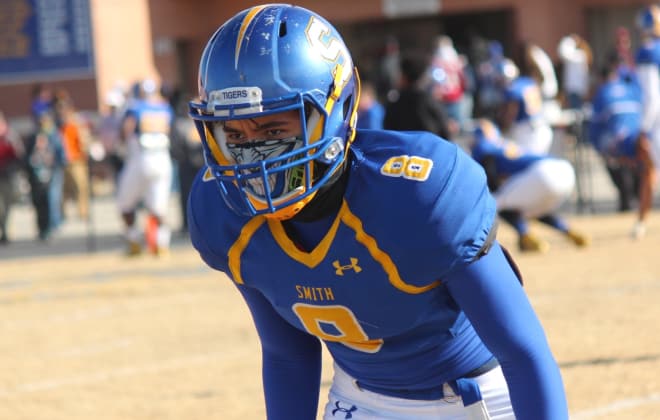 Ohio State has made Virginia a recruiting priority under head coach Urban Meyer and that should continue moving forward into the 2019 class. The Buckeyes saw one of Virginia's best juniors head to campus on Saturday in Oscar Smith defensive back Cam'Ron Kelly.
The 6-foot-2, 195-pound prospect hails from one of the state's top programs so he knows a thing or two about resilience and what it takes to win. The Buckeyes embodied that mindset on Saturday.
"It was crazy," said Kelly. "Just listening to coach Meyer talk about the brotherhood and then the atmosphere was crazy. The fans never gave up on the football team and the team never gave up on the game."
Meyer's words pre-game were almost prophetic as the Buckeyes stayed together through plenty of adversity on Saturday to pull out the huge win.
"He was talking about the brotherhood at Ohio State before the game," he explained. "He was probably doing it during the game too, because when you're losing it can take hope away and they didn't let that happen. They came back and won."
Seeing the closeness of this Ohio State team in person was a big takeaway for Kelly from his first experience at Ohio State.
"What I really like about the program is what coach Meyer preaches about every day, the brotherhood," he explained. "They are focused on winning games and they don't want to settle for being a team that loses in big games, they want to win those big games and win championships."
Kelly, who grew up in Washington state and actually lived in Cleveland (Ohio) for a year, hopes to return either in the winter or spring for another visit. He'll use that trip to get more time in with the coaches.
"I'm going to have to setup a later visit," he continued. "I couldn't go back (on Sunday) so I'll be back at Ohio State pretty soon."
The four-star prospect has plenty of early suitors as his recruitment has already turned into a national battle. The Buckeyes have not offered yet, but that is something that could certainly change.
"It's been really crazy and humbling at the same time," he said. "It's amazing how everything has been playing out and the recruiting process has been going really well for me so far. I'm just taking my time with it."
The rangy defensive back already has a basic plan in place for his recruiting process. The 2019 class will be the first that can take official visits before their senior seasons and he plans to take advantage of that new rule.
"I've put some thought into it and with the class of 2019 we can start taking official visits in April," he continued. "I believe April 1st we can start, so I'm going to take some official visits in the spring and get my commitment done before my senior year."
Kelly is rated the No. 3 prospect in Virginia in the 2019 class and the No. 146 overall prospect in the nation.