Big Ten season brings fresh round of QB questions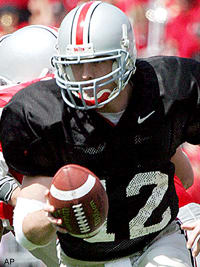 The Big Ten football season is upon us and it looks like you can expect a story or note out of every league beat reporter about how the multitude of new signal-callers will affect the conference race.
That's judging by Tuesday's teleconference with the league's coaches, including Ohio State's Jim Tressel, who was asked a couple of questions about Justin Zwick and the rest of the fresh-faced Big Ten quarterbacking cartel.
Zwick "has made some progress, made some big plays, made some mistakes," Tressel said. "This weekend down in Raleigh he did a good job keeping the mistakes to a minimum.
"He's a first-year starter, he has only had three starts in his career ... we like to think he'll get better and better. We feel good about him."
As far as the ceremonial end to the noncon season, Tressel said, "We've seen enough that we can tell this is going to be a good league. We've also seen that a lot of us are breaking in new quarterbacks.
"There's probably not (many) consistent teams right now but we had to expect that. If we thought we'd all step in with new quarterbacks and things would be like they were before we would have been kidding ourselves."
In addition to Ohio State, top-notch conference teams Michigan, Wisconsin and Minnesota also had longtime quarterbacks cede their territory.
"If you look at the pre-Big Ten schedule, you would say Purdue probably had the most consistent performance," Tressel declared. "Some of that had to do with (returning QB) Kyle Orton being so good. I don't know if that's an advantage we didn't know about because we knew about Orton and they have a lot of good players back on offense.
"I would hope by midseason that our new quarterback would be much older. I'm guessing that's what will happen."
• Tressel also talked about his preference to keep coaches poll ballots secret.
"I'm not sure the coaches would like that being done because sometimes opponents are in your top 25," he said. "You would hate to create bulletin board material where they're not as highly ranked as they think they should be.
"We do enough things naturally to get ourselves in trouble. I don't know if we need one more."