Big second half lifts No. 23 Ohio State past Morehead State for 77-44 win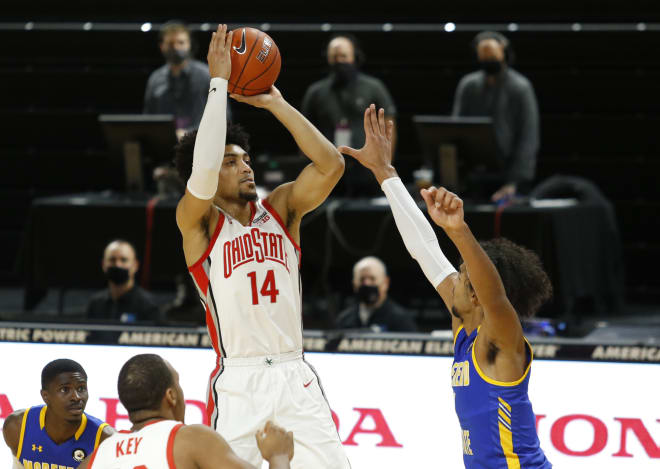 A second-straight uneven first half performance against a nonconference opponent won't dispel all the questions for Ohio State men's basketball, but the Buckeyes faced little resistance in the second half Wednesday en route to a lopsided victory.
The No. 23 Buckeyes (3-0) capitalized on a hot start in the second half and finished even hotter to fly by Morehead State (1-3) 77-44 in Ohio State's second game in the Covelli Center, and a near-career-high 16 points from sophomore forward E.J. Liddell did not hinder the cause.
"We didn't really compete at our highest level Sunday, but I feel like this was a good bounce back game to come out and compete and show what we can really do," Liddell said after the game.
The Eagles hung tough early, entering halftime down just 10, but crumbled late to finish with a putrid 25 percent clip from the field for the game.
Meanwhile, the Buckeyes weathered another mediocre night shooting early –– 40 percent from the field and 25 from 3 in the first half –– to score 40 of their points in the second half, as five players scored in double digits.
A 3 from junior guard Duane Washington was part of a 7-0 run from Ohio State in a stretch that took 1:25 of game time toward the beginning of the second half, and the Buckeyes quickly pushed the lead to 15.
By the time Washington hit his next 3 with five minutes and change to play, the Ohio advantage had grown to 21, and the final result was well in-hand.
"This was a definite improvement from the other night, and it was good to see," Ohio State head coach Chris Holtmann said after the game. "I thought we just played more connected on both ends."
Ohio State leading scorers vs. Morehead State
| Player | Points | FG |
| --- | --- | --- |
| E.J. Liddell | 16 | 6-9 |
| Duane Washington | 11 | 4-11 |
| Justice Sueing | 11 | 4-7 |
| CJ Walker | 11 | 3-8 |
| Kyle Young | 10 | 3-6 |
Morehead State did find some success early though, and the Eagles didn't have to look far for a defensive strategy to employ against the Buckeyes.
On Sunday, UMass Lowell gave Ohio State all it could handle with zone looks and some full-court press, and Morehead State followed the blueprint to a T.
The result was another poor shooting performance from Ohio State in the opening 20 minutes. However, 12 first-half points from Liddell on 4-for-6 shooting helped propel the Buckeyes to a 37-27 lead at the half.
Beginning 0-for-11 from 3 on Sunday, Ohio State knocked down a couple attempts from deep in the first half, but only after starting 0-for-6 through the opening nine minutes. The Buckeyes finished the first half 3-for-12 from beyond the arc.
"I don't think there's any question that we're a work in progress, and more than really in any of our four years here together," Holtmann said.
Bucknell transfer guard Jimmy Sotos scored his first points as a Buckeye in the first half, hitting a 3 from the wing with 3:16 remaining in the period to make it 33-24 Ohio State.
The shot from Sotos started a 7-0 run for Ohio State to take a 13-point lead until a 3 from Morehead State sophomore forward Julius Dixon cut the lead to 10 just before the intermission.
The Buckeyes began taking control of the game during a crucial stretch from 8:45 to 6:00 in the first half, a period in which Ohio State went on an 11-2 run to take the game from 17-14 to 28-16. Four different Buckeyes scored during the run.
Much like UMass Lowell on Sunday, the occasional 3 helped keep Morehead State in the game, and the Eagles hit 5-of-9 first half attempts from downtown.
It was anything but close down the stretch though, as Ohio State junior forward Justin Ahrens got hot late for the Buckeyes, connecting on three 3-pointers to keep Ohio State on top by a widening margin in the game's final minutes.
Ohio State continues its nonconference schedule with a matchup against Alabama A&M at 7 p.m. Saturday.