Barrett making strides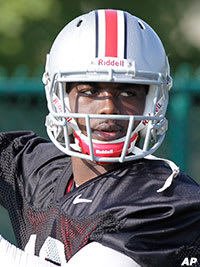 COLUMBUS, Ohio
- In case you have not heard, people are concerned about
Braxton Miller
's shoulder and there is no Kenny Guiton warming up on the sidelines in case the senior quarterback cannot answer the bell. That puts a lot of pressure on Ohio State's backup quarterbacks and both
J.T. Barrett
and
Cardale Jones
have answered the call admirably.
On Saturday,
Urban Meyer
announced that Barrett had overtaken Jones for the No. 2 spot, a position that Jones had earned during spring camp. With Miller limited in his throws during fall camp to date, there has been a great opportunity for both backups to see more live reps while true freshman
Stephen Collier
makes the adjustment to the college game with a likely redshirt season coming up.
"It has been great for them, for those young guys to get the live reps is invaluable, you can't put a value on it because it usually doesn't happen," quarterback coach
Tom Herman
said. "We are making the most of it, obviously we would prefer it the other way, don't get me wrong. But we are making the most of it."
Jones has attempted two career passes which is two more than Barrett has to date in game action. The loss of Kenny Guiton to graduation may be one of the biggest departures that nobody (outside of diehards) from the Ohio State team that nobody is talking about.


Barrett's rise has been steady and the coaching staff has seen both quarterbacks working hard but things going a little smoother on Barrett during practice at this point.


"The offense moves better when (Barrett) is in there," Herman added. "You can throw all the completion percentages, he is probably completing more balls and making more of the right reads and more of the right reads in the run game but at the end of the day the offense moves when he is in and sometime it doesn't as much (with Cardale), not that Cardale is doing a bad job, but the offense moves more frequently when J.T. is the quarterback and that is the sign of a good one."


Miller has seen a lot out of both quarterbacks as they take the live reps and has been very impressed with Barrett's growth from true freshman in 2013 to backup QB in 2014.


"He is progressing ever since he was a freshman he has been watching me and (Kenny Guiton) and went through the spring taking all of the reps everyday," Miller said of Barrett. "As a quarterback you get better each and every practice and that is what I have seen from him. He has taken a step up and is learning each and every day."


Miller did not throw on Monday morning at practice but was scheduled to throw during the afternoon practice session. The coaches have been having Miller take mental reps during morning sessions to help the senior quarterback deal with arm soreness after offseason surgery.


[rl]